DROVAL ROOFING
Roofing Since 1989
Dorval Roofing is a small roofing company situated in Dorval, Québec. We service the West-Island, Châteauguay, L'Île-Perrot and its surroundings. We differ from other roofing companies in that we work closely with our customers. We offer a more personalized service and we install one job at a time. We will supply you with full colour brochures and samples to help you determine the best shingle style and colour to match your home, not necessarily your neighbourhood.
Every home should have its own identity. With Dorval Roofing, we will explain to you honestly the primary components of your roof and what work will need to be done. In today's world, we are all so very busy, so sometimes meeting up to discuss an estimate is hard. We can go by your residence throughout the work day, measure your roof and look for key points and critical areas and prepare you with a well detailed proposal based on our expertise. Everything may be discussed over the phone as we have already seen and taken the measurements of your project!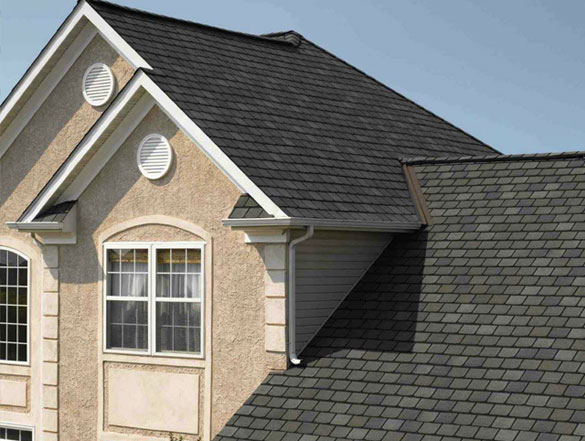 No sub-contracting
Unlike larger companies who subcontract work, we have our own trained team to carry out all the work from start to finish. If during the course of your project, it becomes apparent that additional work is required outside our trade, we will take care of hiring the required specialists in their trade to take on the task for a worry-free project.
Credentials
We hold a bond and are licensed with the Régie du bâtiment du Québec (#8307-9525-55). We carry full liability insurance and are registered with the CSST (workmans compensation board). We are also IKO Select RoofPro certified.
Warranties
We issue a written 10 year labour transferable warranty on all our new roofs installed. Shingle manufacturer warranties vary between 25 to 40 years on a prorated scale after the initial up-front protection.
Leading Way In Roofing &
Repair Construction!
With Dorval Roofing, you will see an experienced roofer, not a salesman! Our expertise speaks for itself and our referred customers are our sales force. We are your trusted West Island Roofers!
100%
Satisfaction Guarantee
3,000 +
Projects Completed
WORKING PEOPLE
We Always Work With
Energetic Team
Our Happy Customers
Testimonials
We pride ourselves on delivering high-quality services to our clients. From repairs to installations, we strive to exceed expectations and leave our customers feeling satisfied with their experience.
Frank and his team replaced our roof in 2009. The guys cleaned up after no nails to be found anywhere. They also did our neighbors roof right after completing ours and finally Dorval roofing replaced my fathers roof in 2018. All on time and on budget. I found Frank to be honest and fair. I would call early in the season to get a date as the slots fill up fast.
Friendly, prompt, affordable snow and ice clearing on our roof. We're very happy with the job and will definitely call them again!
We got our roof done by Dorval Roofing a few years ago and the garage roof done last fall. Both look like they were done yesterday. Frank and his team were completely professional, polite and considerate. The roofs look great and it's always surprising how quick it's all done.
Super friendly, knowledgeable and explains everything to you. I will give him a call for sure for other work in Spring. We're very happy!